Classes for the Young Dancer
Ages 4 – 8 yrs
TODDLERS /BEGINNERS (4 – 5 YRS)
Toddlers' ballet is a creative, nurturing and fun-filled dance experience for pre- school children. Classes are once (1) a week for 30 minutes.
BALLET PREPARATORY (5 – 7 YRS)
Preparatory Ballet is the introductory syllabus to examinations teaching the students a structured class which takes place in the 3rd term, as a group with the teacher. Classes are once (1) a week with extra lessons at examination time.
BALLET – 1 (8 – 9 YRS)
Ballet 1 is the first examination, with groups of four (4) that demonstrate the basic technique of ballet. Classes are once (1) a week with extra classes at the examination time.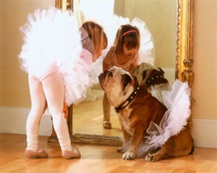 Open Classes
Ages 9 – 18 yrs
BALLET (2 – 8) 8 – 18 YRS
Ballet open classes taken once (1) a week for 45 minutes, the student will progress each year to the next level without having to take an examination. All students in these classes will still participate in the annual showcase but not eisteddfods / competitions.

Technique Classes
Age 9 – 18 yrs
BALLET (2 – 8) 8 – 18 YRS
Technique class is a second (2nd) ballet class to be taken along side the open class, teaching the technique required for the examination to be taken in the 3rd Term. Students of the technique class will participate in eisteddfods/competitions and invitational productions. These classes are designed for the dedicated dance student.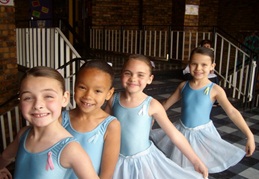 Exam Group Ballet 1 level Oct 2011
Vocational Classes
Age 13 +
INTERMEDIATE – ADVANCED 2 (13 +)
Vocational classes consists of 2 classes a week plus a Ponte work class. Examinations are prepared each year to be taken in the 4th term. All eisteddfods / competitions and invitational productions will be covered.
Attendance in Vocational Classes is strictly observed.