Die Westman Tennisskool
The Tennis School has been running for 21 years and we have more than 1000 pupils – all levels with some being SA Champions. To get players to develop to their full potential, we organize Fun days and Round Robin Tournaments every term. We also encourage players to take part in WP or Boland tournaments and join us on tour.
Die Tennisskool bied professionele tennisafrigting aan. Ons bied afrigting aan groepe of individueel gedurende winter en somer. Ons reël vakansiekursusse, toernooie en toere.
Ons afrigters is entoesiastiese mense wat mal is oor kinders.  Afrigters is gekwalifiseerd en geregistreer by Tennis SA. Ons hoofdoel is dat die leerlinge die lesse geniet en 'n liefde vir die spel ontwikkel.  Ons rig af op die "game base" en "stroke enhancement method" en dus groei spelers in selfvertroue as speler en as persoon.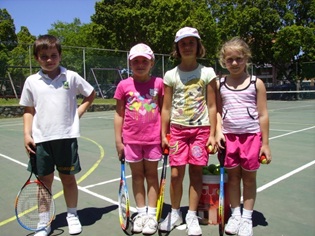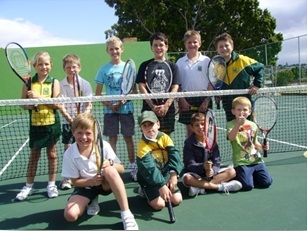 TENNIS IS LOTS OF FUN and without even knowing, players develop in various ways:
Co-ordination
Concentration
Gross motor and muscle tone development
Rhythm timing
Balance
Teamwork
General confidence etc.
Tennis is a skill for life to enjoy until you are 80 + years old!!!
Lesse op Kenridge bane:
Individuele lesse word aan 'n speler vir 30 min per les aan gebied.
Groep lesse vir Preprimêr ses spelers per les vir 'n 30 min les
Groep lesse vir Gr. 1,2 ses spelers per les vir 'n 30 min les
Groep lesse vir Gr. 3-7 vir 'n 60 min les
Squad lesse vir gevorderde spelers  vir 'n 90 min les
Les tye moet bespreek word per kwartaal alhoewel leerlinge ingeskryf is op die menu vorm.
Kontak:  Elsie Versfeld  0722668878